Phil Greenough's Bedside Table Book Review
He Came, he saw, he hugged.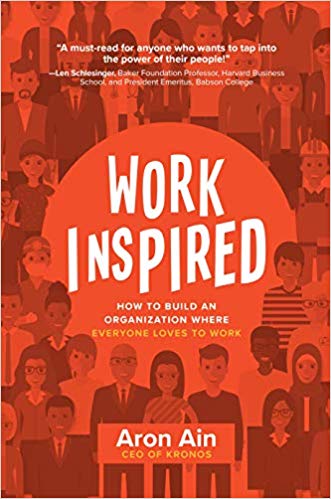 With apologies to Julius Caesar, Aron Ain*, CEO of Kronos, the workforce management software and services firm based in Lowell, Mass., embraces a caring and compassionate approach to managing his global team of nearly 6000. Kibitzing, celebrating, trusting and perhaps most importantly over-communicating are central themes of his first book Work Inspired. By taking a people-first approach, Ain has grown the company in 19 of the past 20 years (except 2009 during the financial crisis) to almost $1.5 billion in revenue.
It's no surprise that as the CEO of a tech company, Ain uses data to make his point. He not only benchmarks against his peers, but also grades his management team through the company's "Management Effectiveness Index" (MEI). And he holds his managers accountable, rewarding how work gets done versus simply achieving performance goals. Kronos leads its peers in employee retention and boomerangs (rehires). That continuity and the commitment starting at the top to be open and honest with customers has provided the fuel for the company to grow and reinvent itself time and again. For an EQ-oriented business like ours, many of the soft skills and cultural empathy are foundational. For many companies, especially those in the tech sector, not so much, thus the value of Ain's book. In 25 years of consulting, I've seen enough cringeworthy behavior by CEO's to know there's a market for Work Inspired. It just takes a willingness to listen, connect and trust.
*Full disclosure: I've known Aron for more than 40 years dating back to our time together in college. Trust me when I say Work Inspired is no repackaging of a CEO, something I've seen far too many times. Aron Ain is the real deal, and he sees the world as he sees his work. Aron Ain embodies the Golden Rule, especially for CEOs.