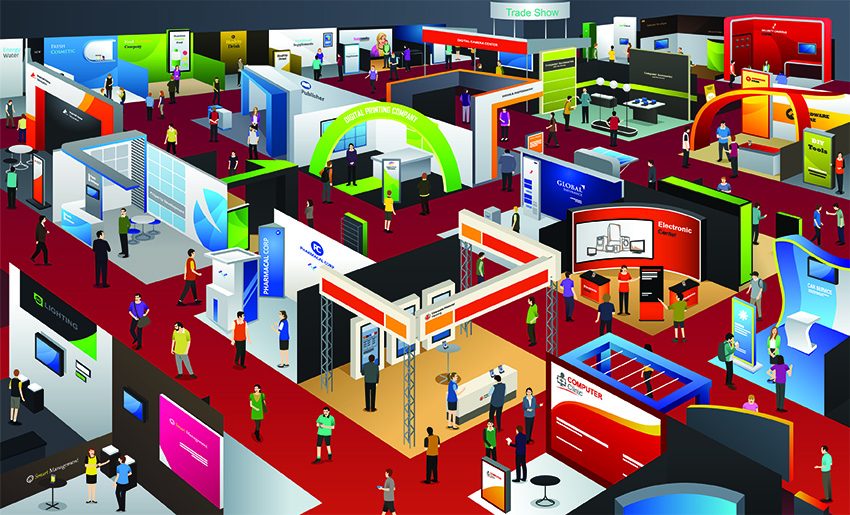 Chances are, your company invests tens, if not hundreds of thousands of dollars in industry trade shows annually. But do you walk away from the shows feeling like your investment was worth it? Between the sponsorship, booth design, marketing collateral, travel and time commitment, the expense of trade shows can add up and eat away at your budget. However, there's great value in trade shows that you may very well be leaving untapped. Next time you exhibit, consider these tips that will help you maximize your trade show ROI.
Build Buzz
Running a successful trade show campaign starts with the pre-show promotion. Don't assume that customers and prospects will just swing by – they need to be invited and enticed. Start by boosting social media activity in the months leading up to the show, using your various social channels to promote your booth number, what you're showcasing, sessions you're hosting, etc. Update your website with company-specific information about the show, and send personalized emails to invite customers and prospects to visit your booth. If you have the opportunity through your sponsorship to host a cocktail reception or lunch, consider doing it. Yes, it will add to your expense, but it will also give you the opportunity to invite customers and prospects to a unique and customized VIP event that will help foster relationships.
Meet the Media
Media relations is all about relationship-building, and the best way to do this is through face-to-face introductions and meetings at trade shows. Request a media list from tradeshow organizers as far in advance as they allow (this could be anywhere from 2 weeks to 2 months before the show) and start your outreach ASAP. Between sessions, panels and interviews, reporters' schedules book up fast, so you want to make sure you're among the first on their list. Offer them a strong spokesperson to speak with and something new and exciting to talk about – a product launch, a big company announcement, etc. If your booth design allows, try to create one-on-one space for interviews, preferably with a room and closed door. This will enable you to have a more professional, in-depth conversation, as opposed to just a casual meeting as a reporter walks by your booth.
Choose Your Booth Staff Wisely
The employees you invite to staff your booth are the face of your company and will likely be networking throughout the show. Make sure you're putting your best foot forward and choosing the people who are right for the job. Have at least 1-2 company spokespeople on-site, depending on the size of your booth. Often, it's hard to pin down the media to a set time—instead, many opt for the "I'll swing by when I can" response, so it's best to be prepared to answer questions at a moment's notice. It's also amazing how far an engaged staff will go in drawing people to your booth. Imagine the difference it makes to an attendee who walks by and sees an energetic and passionate staff eager to talk to them, as opposed to someone who is slouched in a chair and looking at his phone.
Network with On-Site Influencers
You may not realize it, but trade shows are crawling with industry influencers eager to network and learn about what's new in the space. Prior to the show, pinpoint 5-10 key influencers who will likely be attending and "pitch" them the same way you would media. Express your interest in meeting and learning more about what they're working on, and make sure to offer them new and exciting news from your company that you know will pique their interest. An easy way to find influencers is to follow the designated trade show hashtag on Twitter. Chances are, there are numerous influencers using this hashtag as part of their social conversations. Remember that just like the media, their schedules fill up quickly, so the more lead time you can give them to book a meeting, the better.
Be Visible
There are numerous companies, networking opportunities, reporters, influencers and analysts to explore when you're at a trade show, so don't feel like your staff needs to stay tied to your company's booth the entire time. Make sure that someone reliable is always staffing the booth, along with a spokesperson if possible, but then encourage others to roam. Scope out the competition, attend educational sessions and swing by media outlets' booths to make introductions. You've made the investment to be there, so you should make the most of your company's time and money. If you have an executive attending, plan ahead and propose a speaking slot or panelist position. It usually comes with an extra cost but it is a great way to get in front of potential customers and increase your business opportunities.
Trade shows are a staple of every good marketing plan, but how you choose to take advantage of your time before, during and after the show can make all the difference in your experience and investment. The next time a trade show approaches, instead of going through your standard marketing process, consider some of these ideas—they could open the door to entirely new customers and business opportunities.