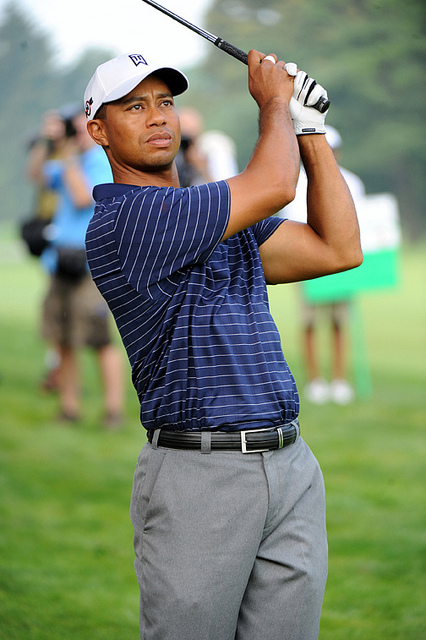 Crisis brought about chaos for Tiger Woods in November 2009 and the months following, but some argue that he has since weathered the PR storm surrounding his personal life and is poised to recapture the heart and soul of the golf world. From the time Tiger won his first major championship, the 1997 Masters, through the 2006 season, he racked up twelve majors, eight Player of the Year honors and a bevy of scoring records. This prodigious production, coupled with a fiery style of play and relentless competitive drive previously unknown to the game of golf, allowed Tiger to become a god-like figure in the eyes of sports fans worldwide. Since his last major in 2008, however, Tiger has been learning a lesson in recovery—of the body, mind, and reputation. Lately one can see him as a family man, often found with his children or girlfriend Lindsey Vonn by his side. Tiger now strives to keep a lower, friendlier profile, but he still hasn't recaptured the imagination of the world he once consumed. Before the scandals, the hatred and the struggles, only one thing satisfied Tiger Woods: winning. And, it appears once again, that winning is Tiger's top priority.
When his personal life unraveled in 2009, Tiger was already facing questions surrounding his health and the state of his game. In the five years since his infidelity became public, he has faced endless criticism and skepticism regarding his health, swing, and drive to regain his former glory. Despite all of his struggles, Tiger insists that he is ready to win on golf's biggest stages again, a belief that will be tested next week at The Open Championship at Royal Liverpool. No one has ever questioned Tiger's confidence, but what's become increasingly clear this year is a simple fact that is troubling to some: golf NEEDS Tiger to win, as much as Tiger needs Tiger to win. If not next week, then soon, or else the game may have to face some harsh commercial realities.
Ever since he began dominating the game in the late '90s, Tiger has driven the commercial aspects of the PGA Tour, sparking television ratings and driving up the prize money totals in both the men's and women's games. In the months since his March back surgery, Tiger has proven his worth to the game of golf without swinging a club, as CBS and NBC have been left unable to use golf's most recognizable face in marketing coverage of the sport's main events. Ratings reflect this burden.
In April, despite boasting a resurgent Bubba Watson and Jordan Spieth's effort to become the tournament's youngest champion of all time, The Masters final round coverage produced its lowest ratings since 2004, a year in which the final round fell on Easter. Spieth failed to claim the title, but it remains shocking that fans didn't tune in to see his battle to break the record for youngest Masters victor held by…Woods, of course. At The Players Championship, arguably the PGA's most notable non-major, the final round coverage attracted ratings 54% lower than last year's finale, which ended with Tiger on top. After winning the low-rated Players, Martin Kaymer—already a major winner in 2010—went on to obliterate the field in the U.S. Open at Pinehurst. Now runaway victories tend to lack in the ratings department regardless of the sport, but note that this year's tournament saw a healthy decline even when compared to 2011, when Rory McIlroy delivered a performance even more dominant than Kaymer's, and delivered the lowest ratings since at least 1996. For a sport that undeniably falls somewhere on the spectrum between slow and boring, stars are the crucial cogs in establishing an exciting image for the viewing masses. Tiger's blistering run in the first few years of the new millennium set a precedent that now looks increasingly unrepeatable, considering the present abundance of talented young players but dearth of catalyzing superstars. McIlroy may still represent golf's best chance at a "new Tiger," but he has yet to sustain the sort of dominating play that made Tiger a phenomenon.
So what does all of this mean for Tiger as he seeks to reignite his quest to break Jack Nicklaus' record for major victories? People are ready to root for him.
Kaymer now has two majors, a gracious personality, and a marvelous swing to his name, yet fans don't seem ready to embrace a reserved German as their next golfing demigod, due perhaps to his subdued demeanor, the polar opposite of Woods' fist-pumping supercompetitor. Spieth may be the most exciting young golfer since Tiger himself, and even he can't draw people in. For someone as scorned as Tiger, the passage of time may be the best PR practice of all. Nearing next week's Open, the headlines no longer question his morals or mental health but instead his physical stability and potential. Last year, controversy arose after a Nike ad featured Tiger with the quote "Winning takes care of everything." But as we await his Liverpool return, is it even possible to pretend that the statement doesn't ring true?
As a commodity, Tiger revolutionized his industry when he burst onto the scene. Like an Apple or a Facebook, he innovated the game in unprecedented ways, and as a result, we are reluctant to turn away from him, no matter how enticing the Kaymers and Spieths of the world may be. People like what they know, things and people in which they can trust. Tiger tested their patience, but it appears now that the value he provides may outweigh the risks of rooting for him. Is the time for redemption now? Can Tiger refill his own shoes?
Contributed by Greenough intern Brian McMahon. Send him an email: bmcmahon@greenoughcom.com