Storytelling is the most common and memorable form of communication. In its simplest form, storytelling allows us to share experiences and create emotional connections. Today, many businesses claim that they're storytellers, but few truly understand the art (and science) of storytelling.
We're fascinated with the science of storytelling, so much so that we've studied it for years. In our "2012 Prevailing Storylines Study," we ranked the ten prevailing narratives that appear regularly in mainstream business media. But that wasn't enough, so in our most recent study of industry-specific media, we trained our eyes on journalists covering mobile technology, IT security and healthcare/ healthcare IT, to look for patterns and potential differences.
The 2013 Prevailing Storylines Study looked at nearly 1,500 articles across 30 business and trade publications spread across three core markets: mobile technology, IT security and healthcare IT/healthcare. The study not only confirmed the prevalence of the ten recurring storylines/narratives, but also showed that certain narratives do indeed appear with regularity in each industry. Within media coverage of mobile technology, for example, "Things Not What They Seem" appeared most frequently. In coverage of IT security, on the other hand, "Recipe for Success" appeared more often, while in healthcare/healthcare IT the most common storyline was "New Kid on the Block."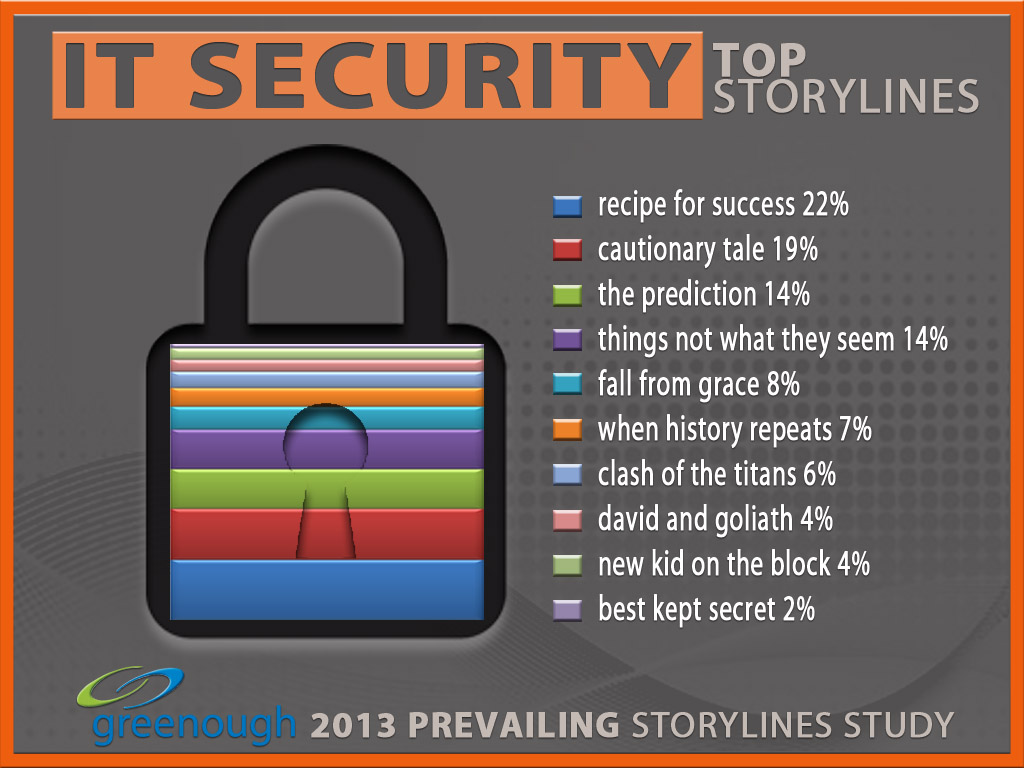 What this research showed us is that the science of storytelling is even more nuanced than we thought. In other words, there are enough noticeable differences at the industry level to recommend unique approaches to storytelling in these markets. And, if companies understand what narratives resonate most within their industry and within the media, they can better position themselves for continued growth and success.
Phil Greenough, CEO of Greenough